Shipping to Baghdad, Iraq from Dubai, UAE by Air Freight, Sea Freight, and Land Freight. In Our Services, BBC Cargo Service is best for Import and Export Oil Feild Petroleum Equipment, Tools or any Machine Items or parts shipping services.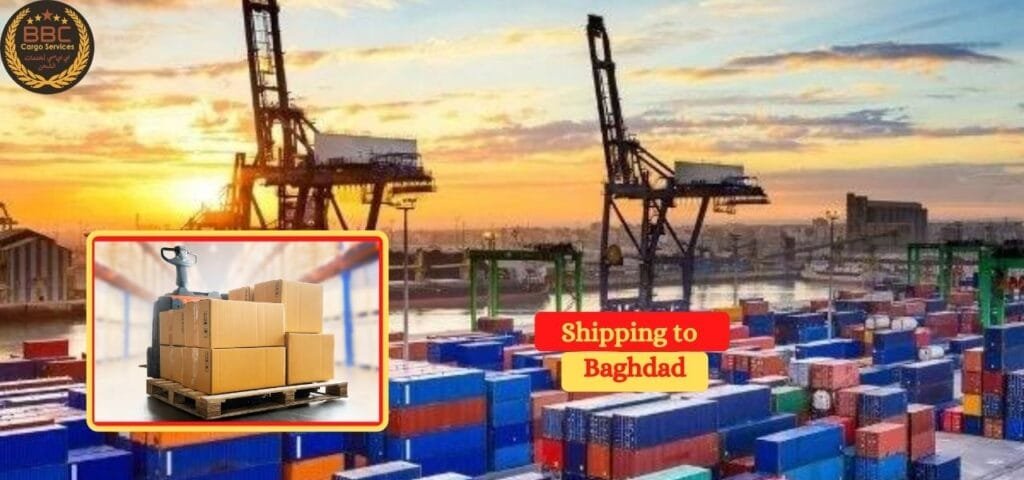 Export and Import Freight Forwarding to Baghdad, Iraq
Baghdad to UAE and also UAE to Baghdad Export and Import are both Services provided by BBC Freight Forwarders. Best shipping company in Iraq and also in UAE for moving your household and commercial items to Iraq and also import in UAE.
In Our Services, we are shipping all machinery, gas, petroleum, Pipelines tools, or spare parts shipping also we have sourcing companies who provide the best quality these all services.
Moving and Storage Service with BBC Storage Warehouse for long-term, and also short-term. Our warehouse has a large area for storing your items safe for one month, 3-month, 6-month, and also more years as you want, secure and safe.
Cargo to Iraq, or Shipping to Baghdad by Air Freight
Oil Feild petroleum tools or spare parts items for shipping fast delivery in Iraq by Air Cargo Service provider from BBC Cargo Service. Special Charter Services for book full Charter with Express Delivery. Cargo to Iraq from UAE is a very easy process for documentation and shipping consignment on the time. For Cargo by Air calculated volumetric KG. It's a fast way of shipment
Shipping to Iraq, and Baghdad by Sea Freight Service
Ocean Freight Services is always ready for big shipments or large quantities of any items like pipelines, engines or petroleum spare parts, and other machinery. It's a long transit time also but shipping costs will decrease for big items. Shipping by Sea calculated every shipment by Cubic Meter. Small and big containers are available at 20 feet, and 40 feet.
Freight Forwarding by Road Cargo || Refrigerated Truck Services
BBC Cargo Services No # 1 in shipping by road with a refrigerated truck for shipping reefer items daily bases like the Dates, Milk, Eggs, Vegetable, Fish, Frozen Chicken, Meat, and chocolate. In our fleet system 1-ton reefer trucks, 3-ton, and 12-meter trailer are available.
Shipping by air, by sea, and by land to Baghdad all types of items we deliver in Iraq like mobile phones, accessories documents, and chemicals.
Household items like washing machines, TV, fridge, and furniture move from UAE to Iraq.
Quality Services provider transit time is good for all types of fleets.