Shipping to Bahrain from UAE
BBC Cargo & Shipping Services provide all door-to-door cargo service from Dubai to include all states like Al Bahrain cities such as Manama, Riffa, Muharraq, Hamad Town, A 'Ali, Isa Town, Sitra, Budaiya, Jidhafs, Al-Malikiyah, Adliya, Sanabis, Tubli.
Freight Forwarding from UAE to Bahrain:
With the passage of time, shifting from one place to another for humankind is easier nowadays, but luggage is a different task. It takes too much time to transfer goods. But BBC Cargo Services has changed this bothering tradition.
BBC Cargo Services provides you the safety of your expensive goods which are to be delivered by Shipping from Dubai to Bahrain. Our company makes use of safe and expensive packing material to make your products safe. You can make an order of complete containers or separate shipments. Shipments from Dubai to Dubai are now become easier by BBC Cargo Services. You have to just visit our website and provide us with information about your shipments. Our team will check out your provided information and will make the arrangements for your Shipment to Bahrain from Dubai.
Services Provided by BBC Cargo Services Shipping to Bahrain:
Our company's goal is to make arrangements to satisfy the customers by providing an adjustable-rate list to make them feel easy. Our experienced staff satisfies the customers by adjusting rates. Our company is famous for Door to Door Cargo to Bahrain from Dubai as compared to other companies. Our company provides many services in Bahrain like:
BBC Freight Forwarding Company avails the facility of cargo by air
BBC Import / Export company avails the facility of Cargo by Sea
Cargo Shipping avails the facility of cargo by land
BBC Shipping Cargo provides the shipment of cars to Bahrain at low rates as compared to other companies
BBC Cargo Services provides the facility of door-to-door shipment from Dubai to Bahrain
Containers shipping by Sea from Mina Jabel Ali Dubai to Bahrain Ports.
import/export company hires a professional team to facilitate the customers
Shipping uses the best packing material for making your products safe
BBC Cargo Shipping company keeps the customers up to date with information till the delivery of goods
Cargo company door-to-door shipping to Bahrain
The selection of cargo method depends upon the customers which they select. Cargo rates change with the method of shipping. The shipping methods provided by our company are:
Some customers need to send their goods by cargo from Dubai to Bahrain in a short time, then the first option for this delivery is cargo by air from Dubai to Bahrain. Our company has warehouses near the main airports to make the delivery easy. Freight forwarding through the air has become one of the best options due to its short time with low cost. BBC Cargo Services has many years' experience in this field of shipment. Therefore, our company is the name of surety in the market for making door-to-door cargo to Bahrain from Dubai.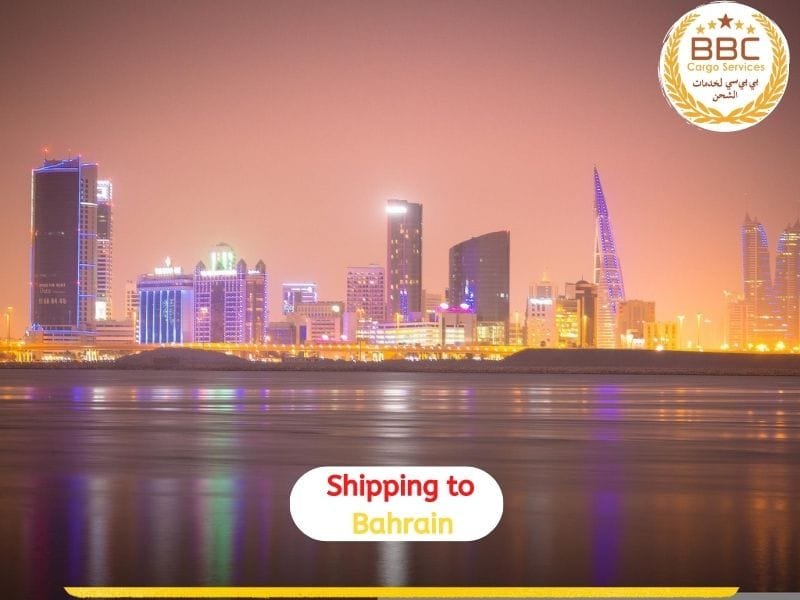 If you have some shipments and are interested in sending cargo to Bahrain from UAE, then simply contact our sales person by visiting www.bbccargo.ae . We will deliver your goods in a short time with the best rates. We have the facility of door-to-door cargo to Bahrain from Dubai for our customers to make this cargo easier. Our talented team will deliver cargo from Dubai to Bahrain after completing the process of documentation of custom clearance.
Shipment from Dubai to Bahrain by Sea:
BBC Cargo Services is providing the best facilities to its customers for sending cargo from Dubai to Bahrain by sea. You can utilize this best service by sending all types of goods like home or office alliances or different types of machines by large containers or separate shipments by the special container. It just depends upon the requests of customers. BBC Cargo Services will deliver your goods safely by cargo from Dubai to Bahrain. Dubai to Bahrain by Sea or Ocean Freight for Bulk Shipments LCL and FCL all types of Consulted Shipments. Reefer Cargo Like Chicken, Fish, Chocolate, Meat, Ice Cream, Milk, Dates, Fruits, Vegetables, and all types of Dry Containers are Available.
Shipment from Dubai to Bahrain by Land:
BBC Cargo Services makes the availability of delivery of cars by providing different sizes of trucks on the request of customers. Delivery of goods by shipping from Dubai to Bahrain by road is the best option by BBC Cargo Services because our company is working on this project for a long time. You have to make an order with our company for delivering your order. Just visit www.bbccargo.ae and talk with our sales person to take information for your delivery. We are sure, you will enjoy the experience with us.

Cheapest International Shipping from UAE to Bahrain
We have developed ourselves and worked very seriously in our sponsorship services, and this is what led us to allocate a significant portion of the company's revenues for the development of facilities and equipment and hire larger numbers of users with great experience and high evidence. International shipping rates from UAE to Bahrain are manageable with BBC Freight Forwarding Services.
BBC Cargo shipping company provides Air cargo shipping services as the primary and pivotal service upon which the company. Years ago, we began to provide services to hundreds of beneficiaries who wish to move their goods quickly and safely, and between the cargo carried by the company.
We are regularly arranging Part and Full trailer load services to/from Bahrain. When you are shifting Bulk Goods Road Cargo consignments, around more than 3 pallets, it is worth requesting a shared trailer weight price. Generally speaking, cost savings can be made, when compared to a standard groupage price.
BBC Cargo Services (meaning Full Container Load) is the service for those clients who are sending large or bulky cargo overseas. Offering cost-effective pricing, a range of sailings, and nationwide UK loading – FPF Global is able to deliver reliable and flexible BBC Cargo shipping sea freight services to thousands of destinations.
Shipping Car from Dubai to Bahrain
Our Services BBC Car Shipping from Dubai to Bahrain now easy for Export Car Start-end to the Last end of the Customers. Just takes Export Certificate from the RTA UAE Department and more Documents related to Car and Custom Clearance Duties Charges on the Border. We have the best Solution for Single cars and Multi-Cars with the lowest rate by Road, and also by Sea.
Shipping Household Goods from Dubai to Bahrain BBC Cargo Services is the best when it comes to moving or ship to your household items. We have experienced carpenters for export packing, so your furniture is safe with good packing while in transit from UAE to Bahrain.
We have Door to Door Moving service. Our people will come to your house for packing and after that, the furniture will load in pick up. Our experience also helps us understand the value that people place on their appliances and collectibles. Using the latest technology, we make it a point to deliver them in the same state they were packed up in; well-protected from theft, breakage, and environmental conditions.
You can trust us with your residence without anxiety, and be certain that your relocation and transition plans are in the safest of hands. cargo companies in Dubai
Customs Clearance Services
Our Company provides all types of documentation first check and check the legal and illegal items then make the list for Export Items and will do all Clearance.
Door to Door Services to Bahrain
Cargo Services from Dubai to Manama
Shipping frozen Foods from UAE to Riffa, Bahrain
House Hold Items from Abu Dhabi to Muharraq
Car Export and Import Services to Hamad Town and all Bahrain
Factory and Machinery of Heavy Tools also shipping from Al Ain to Sitra
Containers moving from Jabali Port to Bahrain Ports by SEA and by Road
Fish and Chicken this Chiller Cargo from Sharjah to Budaiya by Land Cargo
Loading Unloading and Warehouse services also in UAE and Bahrain
Air Freight from Port to Airport Cargo Jidhafs,
Sea Cargo more best Lowest Shipping Rates Al-Malikiyah
Road Freight for fast shipping and manageable prices from China Markets, Dragon Marts Dubai to Bahrain Adliya, Sanabis, Tubli
cargo from Dubai to Bahrain and also from Bahrain to Dubai
Shipping Services from Abu Dhabi to Bahrain and from Bahrain to Abu Dhabi
Freight frowarding from Sharjah to Bahrain and Bahrain to Sharjah
Moving from Ajman to Bahrain and Bahrain to Ajman
Exprt in moving packing household items from Fujairah to Bahrain Export and and Import services
VIP packing your luggages or any load from Fujairah UAE to by road, by sea, and by air shipping Bahrain. Export and Import services with providing local transportation, packing, loading unloading, and fixing.
Shipping Companies Bahrain
We major effort to offer competitive deals and prices irresistible to all our customers across the world, with an absolute commitment to monitoring shipments, and ensuring all customs clearance procedures while providing a range of scenarios for the transfer of cargo in order to avoid any unforeseen circumstances and operate air bridges through agents maritime transport in UAE and abroad.
Storage Services with Warehouse
We are specialists in storage services and we have gained a good image among our valued customers, Air bridges shipping company is one of the best.
Packaging Furniture's Household Items and Heavy Machine
The packaging is the most important process that precedes the shipping and transport service, and we have full equipment and logistics which enables