Cargo Shipping From UAE to Bahrain
BBC Freight Services offers you various cargo shipping services from UAE to Bahrain, while you are looking for shipping companies in the UAE to keep you away from the challenge of follow-up and save a lot of time. BBC Cargo Service is the best choice for customers in the UAE with a large range of freight services.
Shipping from Dubai to Bahrain is one of the essential services of BBC Cargo Company, if you have shipments or products and want the cargo to Bahrain from Dubai, please feel free to contact us at Cargo Services in Dubai and Clearance, you only need to contact us and notify us of transport and delivery details so that our team can start shipping to you.
Make arrangements for packing and repacking in warehouses and then forward it to you. Cargo shipping from Abu Dhabi to Bahrain can also put a lot of stress on your shipments, but you will receive all your products absolutely without damage with the support of professionals who know how to secure storage containers and prepare all your goods properly.
We seek to provide you with a specific service to make sure your shipping reaches your destination at the highest quality and speed. We also seek to achieve industry and competitive variables while ensuring the growth of these markets in our shipping procedures and logistic services. BBC Cargo Services offers an excellent service of shipping routes from cities of the United Arab Emirates Dubai, Abu Dhabi, Sharjah, Al Ain, Ajman, Ras Al Khaimah, Fujairah, and Umm Al Quwain to Bahrain.
BBC Cargo Service offers the most important Cargo Shipping Services from UAE to Bahrain as follows
International Cargo Service
International Moving Services
International Shipping Services
LCL Shipping to Bahrain from Dubai
FCL Shipping to Bahrain from Dubai
Dubai to Bahrain Road Freight Services
Road Cargo Services From Dubai to Bahrain
Ocean Freight Services From Dubai to Bahrain
Sea Freight Services From Dubai to Bahrain
Sea Cargo Services From UAE to Bahrain
Air Freight Services From Dubai to Bahrain
UAE to Bahrain Air cargo Services
Freight Forwarding Services From UAE to Bahrain
Door-to-Door Delivery Services From UAE to Bahrain
Door to Door Shipping from Ajman to Bahrain
Door to Door Shipping from Al Ain to Bahrain
Door-to-Door Shipping from Dubai to Bahrain
Car Shipping Service to Bahrain from Dubai
Packing and relocation to Bahrain from the Dubai
Relocation Services From Dubai to Bahrain
Movers and Packers Service From UAE to Bahrain
Heavy Equipment Shipping Service From Dubai to Bahrain
Food Shipping from UAE to Bahrain
Furniture Moving Service From Dubai to Bahrain
Household Moving Service From Dubai to Bahrain
Office Moving From Dubai to Bahrain
Import and export customs clearance
Import and Export Services
Customs Clearance Services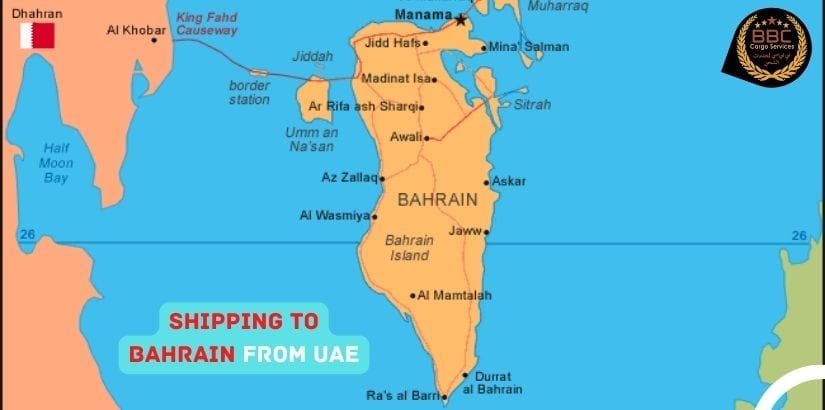 The most effective features of Cargo from Dubai to Bahrain
Shipping food, fruit, and vegetables
Shipping health and medical equipment
Shipping all types, sizes, and weights of industrial materials
Shipping vehicles from the United Arab Emirates to Bahrain
A quick shipment process
Insurance service against shipping danger
Promote the import of goods and shipments of customers from the UAE as we give you all logistical solutions.
Quick shipping from the collection of shipments to delivery, which takes the deadline into account.
Provision of reasonable costs
BBC Cargo Service provides customers with an assurance of speed and minimum expenses by selecting the most suitable transport method for their products
Shipping facility from door to door
Customs clearance and immigration consulting services for our customers
Packaging and restocking for shipments in order to make sure safe delivery and to reduce shipping costs
Cargo insurance as required by the customer
Comprehensive sea air and road transit experience
The long experience of handling all kinds of importing goods to Bahrain from the UAE
BBC Cargo Service offers Land Freight Service from UAE to Bahrain at cheap rates | Cargo from UAE to Bahrain
BBC Cargo Service is providing Land Freight Service from Dubai to Bahrain at cheap rates. We also introduced the tracking of shipments during transport using state-of-the-art technology to notify the customer and ensure timely delivery.
Our expertise in the field of land freight services from Abu Dhabi to Bahrain is based on market research. Our wide fleet includes trucks of different sizes to meet specific needs, choosing from flexible shipping solutions.
At border entrances and exit points in every country, we provide customs clearance services. We offer specialized trucks and reorganized shipping when shipping household goods from Dubai to Bahrain or personal effects relocation. There is a minimum amount of truckload (LTL) and maximum load (FTL).
To those looking for an affordable solution, we suggest customized services for quick delivery and efficient services. Door-to-door cargo from Dubai to Bahrain or warehouse (depending on your cargo) can be arranged. Please feel free to ask for a special deal and our professional shipping experts will contact you. We will assist you in understanding shipping and insurance prices.
We have been providing land freight services in Dubai without hitch do not hesitate to contact our friendly team, they will be happy to help you. All our trucks are equipped with GPS tracking systems to track cargo from one location to the next.
Reefer cargo shipping to Bahrain from UAE | Road Cargo Service | Export and Import Service
Refrigerated truck available for cold shipping service from Dubai to Bahrain and also from Bahrain to Dubai. BBC Cargo services shipping reefer containers, and refrigerated trucks 3-ton, 7-ton, and 12 meters, 15 meters with all types of products or items. frozen shipment is not easy same as general cargo shipping from the United Arab Emirates. For cold cargo shipping must control the temperature as required to the item's base.
In reefer services, BBC Transportation offers door-to-door and also from door-to-warehouse for commercial shipping services. By cold cargo, you can move all types of frozen chicken, meats, fish items and also dates, milk, ice cream, eggs, fruits, and vegetables.
All our drivers follow the high standards of road safety, which lead to secure, effective, and timely cargo transport incidents and accidents. BBC Cargo is always committed to meeting the highest needs of its customers, providing numerous trucks of various kinds and sizes. We always work to efficiently and effectively serve our clients.
Most Trusted Air Freight Services from UAE to Bahrain
Airfreight from UAE to Bahrain is most suitable to fulfill clients' demand, as it is quickest and at a low price accessible to a wide range of individuals and businesses in all shipping methods, making commercial transactions, especially for materials like food and other products, faster.
Airfreight is the fastest way of shipping to guarantee shipment and products arrived in less time. As one of the leading air freight forwarders in Dubai, we transport and deliver your shipped products at the right time with great care, and with full monitoring to any destination internationally.
Airfreight from Dubai to Bahrain is the easiest way to transport freight and commodities within a short time. Our technical guidance and our worldwide network of offices allow for the detailed monitoring of your shipping from Sharjah to Bahrain.
We are pleased to be able to give value to the logistics chain and therefore to produce strong growth with customers.BBC Cargo Service provides remarkable and efficient door-to-door and airport-to-airport freight services from UAE to Bahrain. We also provide several airline options to the companies and customers either direct or transshipped for importing and exporting shipments from Dubai to Bahrain. For the pleasure of our clients, airport to Airport shipping is also provided.
BBC Cargo Service is the Best Choice of Customers for Sea Freight from UAE to Bahrain
BBC Cargo Service provides its customers a sea freight service from Dubai to Bahrain with the option of shipment and delivery of all goods, fully or partially. The process is the most cost-effective shipping for large and even small goods. We have extensive experience in shipping containers from Dubai to Bahrain, either cooled or open.
BBC Cargo Service offers all kinds of shipments with shipping insurance. We specialize in car shipping from Dubai to Bahrain. As ocean freight is a vital element in the international management of the supply chain.
From full-container loading (FCL) to low-container loading (LCL), to any major global route, and to guaranteed transit times, we provide reliable sea freight service from Abu Dhabi to Bahrain suited to your requirements. For all types of cargo and requirements, BBC Cargo Service provides an extensive range of sea freight services combined shipments or containers, complete and partial charters roll-on/ roll-off, and barge or standard shipping services.
From start to finish, we create the most suitable freight network, path, and carrier for shipment. Our international shipping services not only cover shipment from port to port but also the full door-to-door transport chain from the start to the end destination. Seas people work in close collaboration with their clients to deliver customized services to meet customers ' time, frequency, and cost requirements.
BBC Cargo Service also provides household goods moving services from UAE to Bahrain. It is our pleasure to make the shipping of household goods from Dubai to Bahrain as easy as possible. This is our main reason to make the method cheap and easy but highly efficient. We'll move household goods to Bahrain after we pick them up and clean your apartment or house.
Allow us to shift from the least importance to the heaviest furniture safely. Do you move internationally? Locally distance? Don't worry! Don't worry! BBC Cargo Service can handle any move. We are one of the best moving companies in Dubai, and we have always shown this. When you select The Moving Guys as the moving house you move fast and with care.
Our team is trained as well as possible in the careful and secure packing, transport, and unloading of products in all shapes and sizes. BBC Cargo Service also provides furniture moving services from Dubai to Bahrain. We are the best packers and movers in Dubai and we know how things have to be handled carefully to ensure their safety while moving.
BBC Cargo Service Offers Car Shipping to Bahrain from Dubai
BBC Cargo Service provides a car shipping service from UAE to Bahrain. We are shipping cars to Bahrain from Abu Dhabi by air, sea container, or by ship transport ship Roll On –Roll Off vehicle. It allows for cost-effective car shipping from Dubai to Bahrain.
The shipment by container is the most effective way of transporting cars with personal belongings. Airfreight will send specialists and high-quality vehicles. We can arrange shipments of cars through Jebel Ali, Abu Dhabi, Sharjah, Ajman, & Hamriya, depending on your location.
We are able to pick up your vehicle at any UAE address or save it by sending the car to the specified shipping terminal. The shipping documents and export customs formalities are taken into account.
After your car has left the vessel, the shipping papers will be sent and you will also be told by the Bill of Lading about the planned arrival date at the port of import. Upon arrival, the car must be customs verified, and for local fees, taxes, and other costs related to vehicle processing, you must pay the clearing agent.
BBC Cargo service offers a heavy equipment shipping service from UAE to Bahrain. We don't just ship vehicles! We can also enable you to ship heavy equipment from Abu Dhabi to Bahrain including tractors and cranes. The success of your company is influenced by your heavy machinery. It also shows your company's massive investment.
The trust of professionals in the car transport industry is needed for heavy equipment shipments. When you purchase heavy equipment transportation to cargo shipping throughout the country or elsewhere in the world, such an overseas delivery to any destination can still be accomplished.
Such facilities are used by many various manufacturers and companies to transport their farm machinery, tractors, forklifts, cranes, bulldozers, heavy industrial tools, engines, construction equipment, etc. Call the experts always for safe and quick delivery.
When your equipment gets damaged during the shipping, the company will take responsibility to cover any loss. BBC Cargo Service always provides careful shipping of heavy equipment to Bahrain. We should find a flatbed carrier with a wide enough truck to have the capability of transporting the building equipment much heavier and bulkier than a large freight delivery truck.
Car export service by road car carriers | Heavy transport shipping by ro-ro low-bed transportation
Shipping cars from Dubai to Bahrain and also from Bahrain to Dubai. A single car or multi-cars are exported by car carriers at cheap prices. we can ship cars for tourist single routs and also multi routs also permanent export just documentation from RTA we need with export certificate.